Reading is breathing in. Writing is breathing out.
During the school year, I teach American Literature and spend A TON of time digging into the finer points of fiction. But no school means that I can read whatever I want! So each Wednesday throughout the summer, I'll try to post a sort of living, breathing "works in progress" reading list of a handful of books I'm working through, along with a few lines about what I'm learning as I go.
I once heard it said that the books you are reading today is the person you'll become in five years. I really like that idea.
Click To Tweet
Fair warning: I'm a "dabbler," who works in spurts through a ton of different books at a time. Audiobooks, Kindle, PD reads, leisure reading, and a whole bunch of non-fiction books — usually for professional growth along the lines of personal branding or dedicated research for future projects on down the line.
This week's audio book:*
Ron Clark – Move Your Bus
Beep Beep!: In any organization, there are the folks who do the work and the folks who are perfectly content allowing others to do so. In Ron Clark's Move Your Bus, he breaks the typical types of folks you'll encounter in just about every workplace under the sun down to a series of handy types including "walkers," "joggers," and "runners." If you're a manager, a principal, or a department chair in charge of any number of individuals — it's a really good idea to get a feel for just who, exactly, is riding on your bus before you attempt to hit the road with your next project. And Move Your Bus is all about getting the right people on board AND seated where they belong before we run into some serious bumps in the road.
Verdict: A fun, breezy read that can give you an inside track on some broadly defined personality types, that can save you a ton of headaches when dealing with management (including classroom management!).
This week's PD read: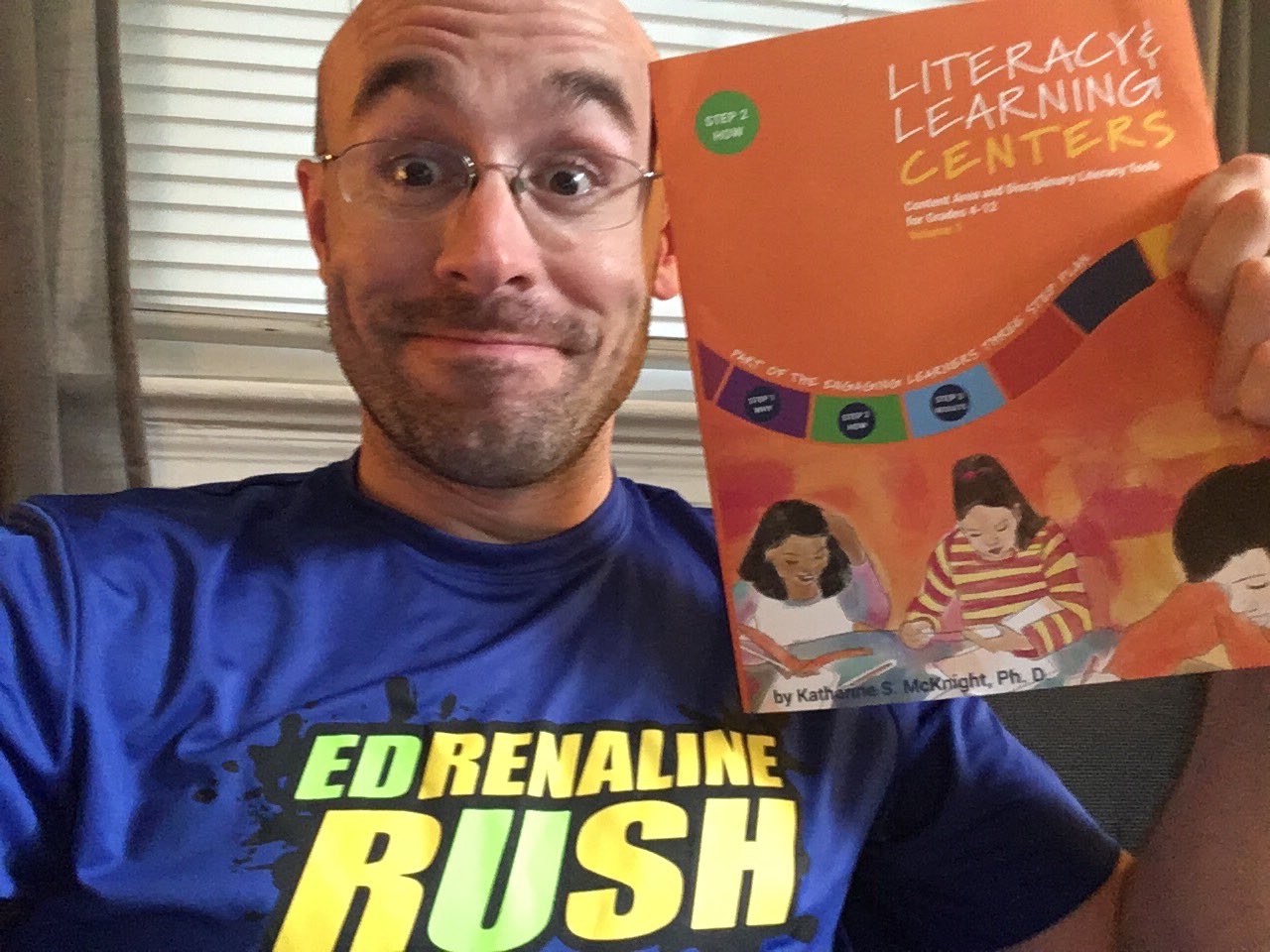 Katie McKnight – Literacy & Learning Centers: Content Area and Disciplinary Literacy Tools for Grades 4-12
3-2-1, ROTATE!: Dr. Katie McKnight is an absolute godsend to teachers looking to make strategic use of centers (or "stations") activities in their classrooms. I first connected with her at the National Catholic Education Association annual conference in Atlanta (I think?) a few years back, and I was blown away by how elegant and artful her presentation was and how thoughtfully she managed to incorporate what seemed to be like a very simple (and easily dismissed as "elementary") activity into classrooms designed for bigger kids. For me, this was an absolute game-changer: writing stations, reading stations, teacher-talk stations, and super fast feedback became an immediate cornerstone of my pedagogy — and with a quick splash of team vs. team competition thrown in for good measure, Dr. McKnight's literacy and learning centers model actually formed the essential backbone of the game-changing #QRBreakIN pedagogy I went on to develop as a sort of "REVERSE" escape room where student squads compete against one another to teach themselves pretty much any content under the sun.
Verdict: Way beyond the hypothetical and super thorough in outlining the "how" where the rubber hits the road, this book is an outstanding addition to any teacher's toolbox. Can't say enough great things!
This week on Kindle:
Angie Thomas – The Hate U Give
Black Lives Matter: I downloaded this book at the tail end of last summer and had every intention of getting it read by the start of the school year, but — as teachers know all too well — the school year can be crazy for leisure reading, and so this has sat in my Kindle library for a full year before the past week or so when I've finally had the chance to settle down and give it a read. (Again, I teach literature and fiction all year long — so my reading outside of school is typically a whole lot of professional development and non-fiction during the months of September through May). All that said — this book is a MUST. READ. for anyone who teaches teenagers. Or for teachers of students who hail from minority families. Or for educators who teach in 2019 in general. Even though it's technically Y.A. fiction, this book hits very close to home in an era of heightened sensitivity to media bias, police activity, and political division. It's not sunshine and rainbows (and if you're thinking about teaching it in your own classroom, definitely be sure to give it a read before you do, as it contains a number of items including coarse dialogue, violence, drug use, and sexually suggestive passages that may not quite be appropriate for your school or grade level) — but it is absolutely worth your time.
Verdict: Without a doubt, The Hate U Give is the book that you need to be reading right now if you haven't done so already. Forget The Hunger Games — this is Y.A. literature with a conscience.
*A quick note on Audiobooks: Two hours of commuting every day = lots of time to "read" in the car! And yes, audiobooks absolutely count as reading. The research is super clear on this point, especially for readers with learning differences — including folks with dyslexia like me — and I wholeheartedly encourage my students to do the exact same thing.